TALKING BIZ NEWS EXCLUSIVE
Editor's note: As part of its five-year anniversary, Talking Biz News will be posting interviews with top business journalists every day this week. Here is the first one.
David Callaway is editor in chief of MarketWatch.com, responsible for the day-to-day coverage from a team of about 100 journalists on three continents. Callaway joined MarketWatch in March 1999 as managing editor and was promoted to executive editor in early 2000. He became editor in chief in March 2003.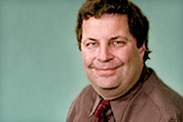 Callaway has been a financial journalist for more than 20 years, having reported on everything from the 1987 stock market crash and Wall Street's insider trading trials of the late 1980s to the introduction of the European single currency and the consolidation of Europe's banking and securities industries in the mid-1990s.
Callaway came to MarketWatch from Bloomberg News, where he worked for five years, almost all of it in London, as a reporter and team leader covering financial services. Before that he worked for six years as a reporter, and then columnist, for The Boston Herald.
During his time at MarketWatch, Callaway has seen the site sold twice — first to Dow Jones & Co. in 2004 for more than $460 million, and then three years later when all of Dow Jones & Co. was sold to NewsCorp.
In three of the past six years, MarketWatch has been voted the best financial news site with more than 1 million unique users by Editor & Publisher and Media Week magazine in their Eppy Awards.
Callaway spoke with Talking Biz News via e-mail on Monday about MarketWatch and business journalism. What follows is an edited transcript.
What role do you see MarketWatch playing in business journalism?
MarketWatch levels the playing field for active investors by bringing real-time financial journalism to the masses for free. Rapid coverage and breaking news headlines — long the province of only Reuters, Bloomberg and Dow Jones Newswires — have been a staple at MarketWatch since the beginning. No other website offers them, even now. Also, rapid context and commentary, and a big push into international coverage, help position MarketWatch, I believe, to be the first truly global financial news service entirely online.
How does it differentiate its coverage from the other Dow Jones properties such as The Journal and Dow Jones Newswires?
MarketWatch positions its coverage for investors, active investors or those who at least actively track their holdings. The Wall Street Journal positions itself for corporate executives, the CEOs of companies. Newswires promotes itself to professional traders and financial advisers.
You seem to be sharing more content with The Journal and Dow Jones Newswires recently. Is that intentional?
Under News Corp., the integration of Dow Jones properties has speeded up, particularly between the Wall Street Journal and Newswires, which now jointly run certain bureaus. MarketWatch takes a handful of stories each day from its partners, but 95 percent of our news is still developed entirely by staff.
What sets MarketWatch apart from other online business news sites?
Speed and context. As I said before, we are the only site that sends out headlines on breaking news. Not e-mail alerts. Headlines. My guess is others don't do it because they don't click through to anything, but they are a favorite part of our site and something we work hard at. We also develop rapid fire context and commentary on breaking news. Our staple of columnists — Mark Hulbert, Peter Brimelow, Irwin Kellner, David Weidner, etc. — is the largest and most talented in the business, I believe.
Who do you see as your biggest competitors, and why?
As an Internet site selling advertising, MarketWatch competes with the other leaders in the sector — Yahoo Finance, CNNMoney, Forbes.com, etc. But none of those sites are primary news providers. As an editorial operation, we hold ourselves up against Reuters, Bloomberg, the Financial Times, and the New York Times — the primary providers of breaking news, scoops, commentary, and investment ideas. WSJ and Newswires are on this list, but now as partners.
How has MarketWatch changed since you joined in 1999 and become editor in 2003?
We've expanded significantly, adding bureaus in Chicago, Boston, Tel Aviv, Hong Kong, Tokyo, Frankfurt and Madrid. We will soon have a person in Sydney and in Mumbai. We've also built out the type of market stories we do, moving from equities into currencies, fixed-income, derivatives and, of course, hedge fund coverage. We've added columnists and extra charts and data, and the acquisition of MarketWatch by Dow Jones in 2005 has helped us invest in the company through redesigns and geographic growth.
What areas would you like to see Marketwatch improve its coverage?
We need to add even more international coverage as the markets for investors are increasingly interconnected and move on overseas events. The Greece debt shock and Dubai shocks last year really drove that home. If you go to MarketWatch at 2 a.m. Eastern time, you'll see it is popping with breaking news and coverage from Asia. Go to Yahoo! or CNNMoney.com or Forbes.com and you'll see they are dark. We also need to add more markets coverage — analysis of currency movements and options and bonds, to appeal to an even broader range of investors.
What can Marketwatch do that other business news sites don't to set it apart?
Because of our large stable of columnists, we have great columns, but we also use the team to bang out real-time commentary. It's kind of like what BreakingViews does for Reuters now. We also have the headlines, which I mentioned earlier, and a commitment to markets coverage, which most sites just outsource now to Reuters or AP.
MarketWatch seems to be doing a lot more video on its site. What is the thinking behind that?
All of the Dow Jones properties are using more video, as we've all invested in developing it into a fully-equal form of story-telling with print, web and audio. We've found most readers not only want, but expect, some form of video component on their news sites. Traffic is way up, and video is popular with advertisers. So we're committed to growing it, as long as we can do it in a way that demonstrates strong journalism and story-telling abilities.
What has been the biggest adjustment for business journalism in the past 20 years?
Like all journalism, it's been the adjustment to an online world. Business and sports journalism are both particularly suited to online coverage, where rapid news and scores are demanded by readers, along with equally fast analysis and commentary. For business journalism in particular, the biggest adjustment after online has been the globalization of the markets and the impact that's had on investor portfolios.
A lot of people have criticized business news in the past few years for failing to warn consumers about the economy. What's your take?
There are always going to be unforeseen events, the so-called Black Swans. But in terms of warning about things like real estate bubbles, bond bubbles, tech stock bubbles, all the warnings were there. It's just that most of the folks riding those bubbles don't want to listen, journalists included. Just this past week, we've seen plenty of warnings about a bond bubble. It will burst at some point, but in a way nobody expected. Subsequently, someone will turn back and say there were no warnings.
Overall, where could there be improvement in business journalism?
Absolutely, there is always room for improvement. Sourcing guidelines could be better across the board; more focus on what readers and investors want rather than what works in terms of traffic (circulation); a bigger-picture, international focus by editors; and new ways to use the Web and mobile devices to tell stories.
Are you concerned that there are big stories being missed such as the Madoff scandal?
There are clearly other Madoffs out there, and when they burst there will be the predictable hair-pulling, but I'm not concerned. It's the unpredictability of it that makes it news. There are hundreds of great stories out there right now and business journalism is as competitive as ever, so many of them will see the light of day — hopefully first on MarketWatch.