Worth magazine has  cut its New York-based staff by 45 percent because of a sharp decline in advertising by financial firms, according to a Reuters story.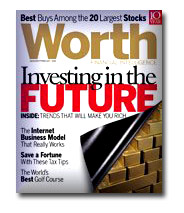 Daniel Bases writes, "Parent company Sandow Media plans to relaunch the magazine with the same focus on wealth management and luxury toys, but base its operations almost entirely in its headquarters in Boca Raton, Florida, more than 1,200 miles from New York City, the financial capital of the world.
"'Like every other publisher we are looking at ways to improve margins and get through this very difficult economy,' said Scott Yablon, chief financial officer at Sandow Media, in a telephone interview.
"The move highlights the general downturn in publishing, especially financial publishing which has seen the shuttering of Doubledown Media, publisher of Trader Monthly and Private Air, as well as severe cut backs and bankruptcy filings in the U.S. newspaper industry.
"The staff cuts at Worth, which included editorial as well as sales and marketing, reduced the New York-based headcount to 8 from 18."
Read more here.