The Charlotte Observer's business desk received a Loeb Award, considered the Pulitzer Prizes of business journalism, earlier this week for its coverage of homebuilder Beazer Homes and its role in the subprime loan crisis.
The Loeb judges praised the series, writing, "In this year-long series, the writers unraveled the story of the subprime mortgage crisis through the prism of Beazer Homes USA, a company that specialized in selling and helping finance homes for first-time buyers. The reporters were able to vividly depict how the subprime mortgage debacle came to be, uncovering Beazer's bad lending practices and duplicitous incentives which led to rampant foreclosures nationwide."
Reporter Binyamin Appelbaum was the main writer in the series. Appelbaum has since left Observer and has worked as a business reporter at the Boston Globe. He is leaving the Globe today to begin working at the Washington Post next month as its national banking reporter.
In an interview with Talking Biz News, Appelbaum (below, looking at a home in Boston) discussed how the series came about. What follows is an edited transcript.
1. How did the project originate? Whose idea was it?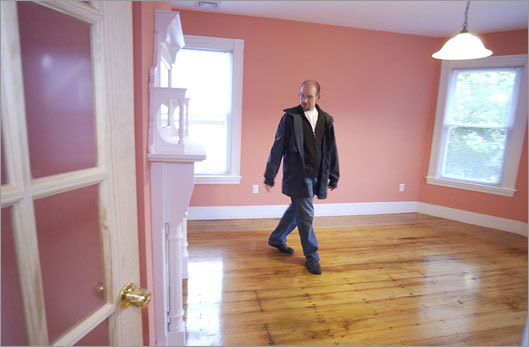 We published a series of stories in January of 2006 that documented for the first time the number of foreclosures in Charlotte, and offered some analysis on the patterns and causes. But it was all from 20,000 feet — we didn't really understand what was happening. In particular, we didn't understand why so many foreclosures were happening in new neighborhoods along the outskirts of Charlotte. And I had the thought at some point that it might be really interesting to pick a neighborhood and gather up all the data and interview the people and understand its story completely. That might give us a way of understanding what was happening in these clusters of foreclosures, and then we could tell readers.
2. What first tipped the paper off to the high number of foreclosures in the Southern Chase neighborhood?
A phone call, an e-mail and a spreadsheet. Shortly after the first series of articles ran, I got a call from the manager of an apartment complex who wanted to talk about the tactics homebuilders were using to lure his tenants. He was particularly upset about a nearby neighborhood called Southern Chase; he said several of his tenants had moved there, and one had moved back to his complex after losing her home.
About the same time, I got an e-mail from a woman who worked in the mortgage industry who said she had looked at her husband's mortgage paperwork and something wasn't right. I met her for lunch, and she told me a pretty troubling story about the way he had bought the home. As it happened, the home he'd bought was in the same neighborhood, Southern Chase.
What really caught my attention was that the neighborhood was built by Beazer Homes. That was a name that had come up in our research for the first series of stories. The combination of the three just felt like it probably wasn't random.
3. How did the you begin looking into the issue?
The first thing I did was to check the property records for every home in the neighborhood to see if there had been a foreclosure. As the numbers started to pile up, I became increasingly convinced that we ought to find out why.
4. How much time was spent from beginning to end before the stories started running in the paper?
I first heard about Southern Chase in February of 2006. The first stories ran in March of 2007. It was not a year of full-time work on the project. I wrote other stories along the way. But I spent most of my year working on Southern Chase, and so did Lisa Hammersley, who co-wrote the first set of stories. Ted Mellnik, the paper's database editor, also spent a good chunk of that year working on these stories.
5. How did Beazer Homes first respond when it became aware that the paper was investigating its practices in the Charlotte market?
The company declined requests for interviews and instructed employees not to speak with us. We ultimately submitted written questions and the company provided written responses.
6. Did Beazer Homes ever contact you directly about the stories? If so, what did they want?
They never initiated contact.
7. How comfortable was the paper in giving the reporters the time away from their regular beats to work on the series?
I think the Observer has a tremendous commitment to enterprise. The business department, where I worked, has a particular history of making time for reporters to work on high-impact stories. The trick always is convincing your editor that your story is worth it. So that was the challenge at various points — making the case that this story was worth it.
8. When did you start to realize that the series was going to have a big impact?
After it ran. We were optimistic, of course. We believed in the importance of the stories we were telling. But frankly this approach of writing about a single neighborhood was something of an experiment. We had focused very narrowly, it was a different way of trying to make a story feel personal for our readers, and we didn't know if it would work. At that point in time, people also weren't primed to be outraged about lending and foreclosures. We just didn't know how people would react.
9. How soon after the four-part series began running did you start to hear from readers? What was the general reaction?
The reaction was immediate and explosive. We were overwhelmed by people writing and calling to share similar stories, to say this was happening in their neighborhood, or to them personally. It was clear by Monday morning — at which point the series was still only halfway done — that something extraordinary had happened, that we'd touched a real nerve in the community.
10. The Observer followed up with a number of stories about Beazer. How did those come about?
Some of those stories were things that we'd always intended to pursue, but just didn't fit into the original series. But mostly it was stuff we learned about from readers as they responded to the original stories. And it quickly became clear that we had not understood all the things the company had done, or all the neighborhoods that were affected.
And equally, it became clear that writing about this one company was a tremendously powerful way to explore a broader problem that we knew was equally affecting people in neighborhoods built by other companies.
11. Did the paper go into this thinking it would win awards?
I certainly didn't. I write stories like this from a certain amount of anger. I went into this thinking that I wanted to prompt legislation and investigations and change. That was my to-do list. Even after it ran, and it was clear something was happening, frankly as a young reporter those awards seemed incredibly remote, a someday thing. I had no frame of reference for saying, Hey, this is the quality of work that might get serious consideration. When we won the Polk in January, it came as a complete surprise.Â
12. Why do you think the series was honored? 
Timing and execution. We produced a piece of unique and authoritative journalism on a subject that became the most important story of the year. We answered, at least for one neighborhood, the question of responsibility — not just what happened, but why, and who did it — in a way that people found meaningful.
13. The paper developed some interactive maps of the housing market for the Web site. How did you work to tell the story online as well as in the printed paper?
Ted Mellnik, the paper's database editor, created an interactive map of foreclosures in Mecklenburg County. People could zoom in or search by street to see property records for each local foreclosure. The map has attracted hundreds of thousands of viewers — making it one of Charlotte.com's most popular features — perhaps because it let people do their own reporting and explore the impact of foreclosures on their own neighborhoods.  We also posted video of interviews with some of the main characters in the story, to make them more tangible to readers.