WSJ staffers criticized by not being aggressive enough
Nick Denton of Gawker writes Wednesday that Wall Street Journal publisher Robert Thomson — who is now de-facto head of the newsroom as well in lieu of managing editor Marcus Brauchli's resignation — reamed out staff writers on Monday for not being aggressive enough.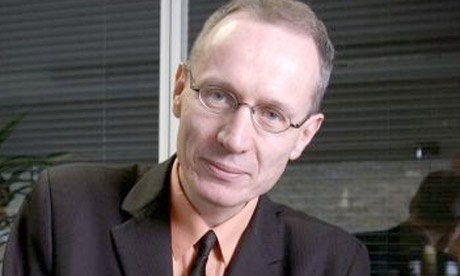 Denton writes, "According to two attendees, Thomson berated the assembled reporters for their lack of aggression in reporting news and their arrogance. The Journal, he said, took this attitude: 'If we haven't written about it, it's not news.'
"Now that is apparently a general complaint of Murdoch and his henchmen, who want the Journal to compete more fiercely for both political and business scoops — and the criticism not entirely unwarranted. Thomson, Australian and 30 years to the day Murdoch's junior, is the product of the more robust newsroom cultures of Sydney and London; Journal reporters are unaccustomed to such frank talk from their bosses. And all that Thomson meant to say — we understand — was that the Journal was now in an ultra-competitive world in which it had to be conscious of the challengers, old and new. Uncontroversial enough.
"But his sensitive audience took his remarks the wrong way. The newspaper had just that morning published an exclusive on the gigantic $23bn bid by Mars and Warren Buffett for Wrigley, the chewing gum makers. According to one attendee, stock market reporter Jim Browning said he was 'personally offended' by the suggestion that the newspaper's reporters didn't try to break news. Thomson's joke—that former managing editor Paul Steiger was extremely competitive on the softball field—failed to defuse the tension."
Read more here.