Christine Brendle, the managing director of Wall Street Journal Asia, is not worried that the business newspaper faces increased competition from online finance Web sites such as Yahoo! and Google Finance, launched last week.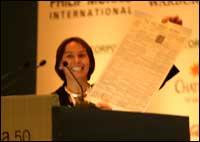 In an interview in India, Brendle said, "When people get on Google or Yahoo or when they get on the Net, they need a beacon. They need to have guidance and Dow Jones and its brands like Far Eastern Economic Review, Wall Street Journal, Market Watch, Barron's they provide immediate information on what content people expect and the trust people have in this content.
"Sometimes online you can get an encyclopaedia that tells you things that are blatantly wrong. It helps to have these brands because they are a guarantor for quality and therefore I am absolutely convinced that they will stay and grow online because they will present the same benefits that are in the print which is a certain guarantee of integrity and quality."
Read more of the interview here.