Someone has posted on a blog Fortune magazine senior writer John Helyar's six rules for better business writing. Although they aren't new, I am guessing that some people haven't seen them.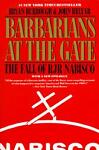 So, here are a couple:
2) Don't do drive-by shootings. Odds are that the best stories you'll ever write are based on relationships established over a long period of time. In the course of daily newspaper stories, it's tempting to make glib conclusions or forego those extra calls that can change a story. But you've got to think about the long run and the forging of long-term relationships. Those are based on developing trust and getting not just the facts, but also the tone of your stories right. Writing our book, Barbarians at the Gate: The Fall of RJR Nabisco, was made possible by one key thing: trust. Bryan Burrough and I had covered the six-week bidding war for RJR Nabisco on a day-to-day basis and had developed reputations for keeping our word, for being accurate, for trying to sort out the truth from the spin. When we decided to do the book, the people to whom we needed full access fully opened up to us.
6) When dialing for sources, take chances. Particularly when a business is in crisis, there are lots more people who are eager to see the truth come out and willing to talk than you might think. Sure, you have to venture outside your usual tried-and-true Rolodex; sure, you have to make a lot of after-hours calls. But if you want good, nitty-gritty stuff, try the middle-managers who do the real work; the corporate pilots who know the big-shots' peccadilloes; the vendors who know why their payments are late. I once interviewed an Atlantan known as "Tommy the barber,� as he snipped my hair, and I got an earful about the follies at Coke, whose executives he regularly shears. I guarantee you couldn't have gotten that kind of dope from any analyst!
Read all of them here.