Broadcasting & Cable is reporting that Rebecca Jarvis, who narrowly lost the final round of Donald Trump's "The Apprentice" show back in the fall, has garnered a job as an associate reporter for business news cable network CNBC.
Jarvis is the daughter of SABEW board member Gail MarksJarvis, who works on the business desk of the Chicago Tribune after writing a column for the Minneapolis Star Tribune.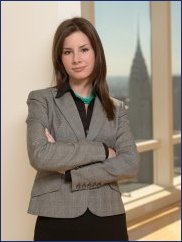 Broadcasting & Cable reports, "The 24-year-old will begin at CNBC April 3, based at its headquarters in Englewood Cliffs, N.J., and will cycle through various departments including the assignment desk, video editing and graphics. She will also accompany reporters in the field and develop and report her own stories.
"A University of Chicago grad, Jarvis' articles have appeared in Business 2.0 and Crain's Chicago Business, among others.
"She worked after graduation at Banc of America Securities as an investment banking analyst. CNBC, which reruns episodes of The Apprentice after they air on NBC, averaged 202,000 total viewers in February, up 51% from last year."
Read the story here.