The Forbes.com site hasredesigned its story pages, its video network, stock quotes and "executive tear sheets," according to a Wednesday announcement.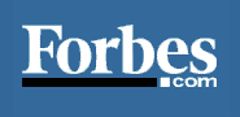 BtoB magazine writes, "Story pages now feature larger text, new placement of charts and photos, more white space and additional opportunities for users to comment. Each story also has an on-page embeddable video player.
"The Forbes.com Video Network (http://video.forbes.com) has launched an updated video player, offering a 16:9 large screen format and High Definition quality video. The Video Network's programming guide has also been updated with more search options. Also, the Video Network content is now viewable on several Windows Media mobile devices, including the Palm Treo and the Samsung BlackJack via the Kinoma player, and can be embedded on other sites and blogs.
"Forbes.com has also debuted real-time stock quotes, working with Xignite and using BATS Exchange trading data.
"The executive tear sheets have been enhanced to provide a more comprehensive profile of each individual, including a complete overview of current employment, compensation, Forbes rankings since 2000 and alert features."
Read more here.