Kaja Whitehouse of the New York Post writes Friday that CNBC staff writers are upset about the Vanity Fair article by Bryan Burrough that implied their reporting was sloppy in covering the downfall of Bear Stearns & Co.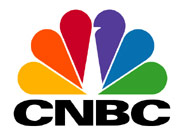 Whitehouse writes, "Burrough told The Post he's been taken aback by the strong reaction, including calls from CNBC employees. 'Maybe I touched a nerve,' he said. 'I don't know.'
"And he says his intention wasn't to place the blame on CNBC. 'The idea that CNBC did in Bear Stearns is ridiculous,' he said, but added that 'there's a few places where they stepped right up to the line and I think I point that out in the article.'
"While media watchers speculate that CNBC may now become more cautious in its reporting, Gasparino says 'there's no change in the way I do my job and I don't think there is in the network.'"
Read more here.