Ron Lieber joined the New York Times in May as its personal finance columnist after being the managing editor of FiLife, a personal finance Web site that is a joint venture between Dow Jones & Co. and IAC/Interactive.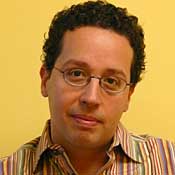 Before that, Lieber wrote the "Green Thumb," a managing-your-money column for The Wall Street Journal that covered a wide range of finance topics of interest to a broad swath of readers — the economics of paternity leave; how to avoid buying a "conflict" (or "blood") diamond; and the lifetime cost of owning a pet.
He joined the Journal in 2002, as an original member of the Personal Journal team, writing about consumer travel, credit cards and other personal-money issues, like how to return wedding gifts for cash and how to borrow fancy jewels like the stars do for the Oscars..
Lieber previously worked for Fast Company and Fortune magazines, and has written several books. He is the co-author of "Taking Time Off," which encouraged people to take a year off sometime before or during college, which rose to No. 4 on the Times' paperback business bestseller list. He's also the author of "Upstart Startups," which chronicles the adventures of a couple of dozen young entrepreneurs in the late 1990s, and of "Best Entry-Level Jobs," a Princeton Review guidebook.
In a recent e-mail interview with Talking Biz News, Lieber talked about his career and his column for the Times. What follows is an edited transcript.
1. When did you decide that you wanted to write about business and finance? What attracted you to the subject?
I first got turned on to the possibilities as a reporter at Lawyers Weekly USA, a newspaper for small firm lawyers, in 1993. My boss used to bring me clips of Edward Felsenthal's "Legal Beatâ€? columns, and I eventually started reading the whole paper. I was astounded at the creativity in every section – the sheer breadth of the story ideas — and I basically said to myself, "I want to do that.â€?
2. How did you focus on personal finance writing?
Fast forward nine years through two magazine jobs at Fortune and Fast Company, and Edward Felsenthal himself hired me to be part of the launch team for Personal Journal in 2002. I arrived with a passion for, among other things, frequent flier miles. From there, it was a half step to writing about the credit card industry. I just sort of took it from there, wandering into employee benefits and banking and other areas that hit you in the wallet.
3. What's the hardest thing about writing about personal finance?
Explaining things in clear and simple terms, without oversimplifying. Taxes kill me. God bless Tom Herman, I don't know how he does it.
4. How do you come up with the topics that you write about?
Some ideas come from challenges I face in my own personal life. I tend to sweat this stuff pretty hard and often overthink it. I'm also getting terrific ideas from Times readers. I look for angles on the news. And I'm trying to approach the beat more like a critic, where worthy new products or services get a review, just as a new restaurant or movie would.
5. How "newsworthy" can you be in writing about personal finance?
Pretty newsworthy, these days, given all of the current economic challenges. In the very least, you can peg a lot of your work to where you are on the calendar at any given moment. Philanthropy, education costs and taxes, for instance, tend to be on people's minds more during certain times of the year.
6. How fine is the line that you walk between telling readers what to do with their money and sounding like you're the one giving them advice even though you're not a registered financial planner?
I don't have a problem with giving basic financial advice. And if I'm getting too specific with any sort of advice, it means I'm probably taking an approach that's too narrow and won't interest or affect a large enough group of readers to make it worthwhile. So I find that I don't run into this problem all that often in the column itself.
7. Before you joined the Times, you worked for FiLife, a startup. What was that like?
It was an incredible learning experience. Having access to the best Internet minds at IAC, Dow Jones's joint venture partner for FiLife, really helped me get smarter faster about how Web businesses are built.
8. Other than working for the same paper as your wife, what made you decide to work for the Times?
I wish I saw my wife more often! The Times offered a bunch of things — the space to write longer, the opportunity to write with a bit more voice, the freedom to explore some ideas that are a bit farther out, the strength of the coverage in areas that I'm passionate about outside of personal finance and the clear emphasis The Times is making on growing the Web site.
9. What are you hoping to accomplish with the Your Money column each week?
I'm trying to get people reading who wouldn't normally look at a personal finance column. That means using plain English, writing like I talk, avoiding jargon, trying to be funny or deploying mild stunts on occasion, telling stories (instead of giving orders from on high) and redefining personal finance way beyond just investing to topics that hit you in the wallet but you might not expect to be reading about in a personal finance column.
10. How much feedback do you get each week from readers? What types of things are they asking you about?
Anywhere from a couple of dozen to a couple of hundred e-mails each week. I try to answer every one, and I read them all. Often people have questions that lead to other columns. Many people find things that I missed, skipped (but shouldn't have) or glossed over, and soon we'll have ways of highlighting the best of those notes on nytimes.com/yourmoney. I get a lot of specific requests for financial advice too. I help where I can and in the very least try to point people to professionals or experts who might be able to help more.
11. What column so far has gotten the most reaction and why?
The one that may have sat at No. 1 on the most e-mailed list the longest so far was the piece where I posted two sample, fictitious letters, one from a lowballer trying to buy a house and the other from that house's owner replying in kind. For many people, their home is their biggest asset, and there's a lot of anxiety around the topic right now.
But I got over 500 e-mails after my first column, where I explained what I was going to try to do with the space and also laid out five first principles for thinking about money. I think people liked the Michael Pollan quote, and I also got a ton of notes about the comments I made about inter-generational conversations around money within families.Â