The Wall Street Journal is expected to unveil changes to its design at a press conference in New York on Monday, according to an Associated Press story.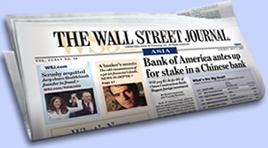 The AP story stated, "Robert Christie, a spokesman for Dow Jones & Co., which publishes the Journal, described several of the features generally but declined to provide fuller details ahead of the announcement." Along with a size reduction equivalent to about one column, the WSJ will add more color and graphical elements, including more photos. It also will have fewer stories jump inside the paper.
The story later noted that the paper can't be printed in Hawaii because of its current wider design than most other newspapers.
The AP story also stated, "Scott Daly, who plans and purchases advertising for Dentsu America, a subsidiary of Dentsu Inc., a major Japanese advertising company, said mock-ups of the new design he had seen suggested that it was not as dramatic a change as the Journal went through four years ago.
"'It still felt like the quality Wall Street Journal that I'm used to, just more in the USA Today size,' Daly said. 'From a reader's perspective, it is more manageable.'
"Dale Travis, who manages newspaper advertising buying for OMD Worldwide, a unit of Omnicom Group Inc., said he didn't think the smaller format and design changes would compromise the newspaper's reputation."
Read more here.