David Zurawik, the television critic of the Baltimore Sun who has been critical of television coverage of the economic crisis, and CNN lead business correspondent Ali Velshi went at each other on "Reliable Sources" Sunday about whether Velshi was reporting or presenting opinion.
CNBC's Jim Cramer was also discussed, but he declined to appear on the show.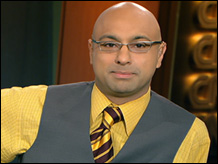 Here's part of the transcript:
VELSHI: OK. I can't tell you that I disagree with any of your views of what we should be doing on TV, but your first column came after the Dow plunged 777 points. And in fact, in the very conversation, you were very selective in what you wrote. You didn't mark the point where I said we have never seen a bigger point drop in the history of the stock market.
But you know what you need to look at when you have a 401(k)? You need to look at the percentage drop. And the percentage drop here isn't even in the top 10.
That was the same sentence, David. How did you forget that part? Are you that much of a channel surfer that you were gone by the time I finished by sentence?
ZURAWIK: Ali, I swear, I didn't ellipses you, I was talking about the overall mode of…
VELSHI: Right. You are conveniently using Cramer and me as a way to do your job as a critic and…
ZURAWIK: Ali, as you know, I wasn't the only one out there saying these things. I really ask you guys seriously, ask you guys not to do the cable host shtick. Right now we need information.
You are one of the best reporter/correspondents we have in America. CNN is the most trustworthy place on cable TV for information. We are in crisis. Please, rise to the occasion the way some of the anchor people did after…
Read more here.