UnitedHealth Group CEO William McGuire was grilled by journalists at the Society of American Business Editors and Writers annual conference in Minneapolis on Monday about his $1.6 billion in stock options.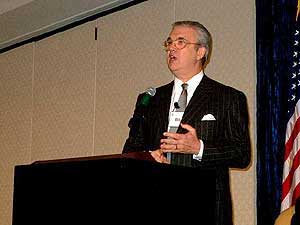 An investigation is trying to determine if the stock options were backdated to make them more profitable for the leader of one of the country's largest health insurers.
Lauren Wilbert, a reporter for the Minneapolis/St. Paul Business Journal, wrote, "But when pressed about his $1.6 billion in stock options and whether he would resign if the investigation found those options were backdated to be more profitable, McGuire said he had no response beyond what the company finds and wants.
"'Other people are more appropriate to address that than I,' McGuire said to a WSJ reporter, when asked if he could explain UnitedHealth's compensation program. He said he wanted to leave it up to independent groups, including one formed within in the company at his request, that are investigating the matter to ensure an unbiased outcome.
"McGuire said any gains to executives from compensation packages come out of shareholders' pockets and not from customers' health care costs, adding that nobody in the company could have imagined how successful the health insurer would become.
"'Clearly these were unpredictable gains,' McGuire said. 'These stock options are coming off the tail end of a decade of incentive practices.'"
Read more here.
A Bloomberg story about the stock options brouhaha is available here.