Subrata N. Chakravarty, a former assistant managing editor of Forbes, writes on the Rediff India web site about how former Forbes editor Jim Michaels, who died last month, influenced his career in business journalism.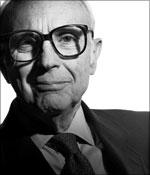 Charkravarty wrote, "Throughout his career at Forbes Jim Michaels' belief was that if a story wasn't fresh, it should not be written. He had a contrarian point of view — that if the herd was running one way, the story was quite often in the other direction. Readers, he believed, should never look at an issue of Forbes and say, 'I read that story in Fortune last week.' And he encouraged writers to express their opinions — to be, as he often said, 'the drama critic of business,' bluntly judging the performance of top management.
"When I got to Forbes in 1972, it was a fourth- or fifth-place magazine in a two-magazine market. When he stepped down at the end of 1998 he had built Forbes into what was unarguably the best business magazine in the country. Jim's interest in India — and my brashness — very nearly made my first story my last. We hadn't spent a lot of time talking about the job, just about India.
"At the end of a lunch meeting I asked him to describe the process of putting out a Forbes story. His reply: 'You come up with an idea, I approve it, you research and write it, I edit it, it gets fact-checked and goes to press.'"
Read more here.Â