The New York Times will begin selling ads that will appear on the front of its business section, Times' reporter Katherine Seelye noted in a Wednesday story.
An announcement was made by executive editor Bill Keller in the newsroom on Tuesday.
Seelye wrote, "The ads are expected to sell at a premium rate because of the prominent showcase the front of the section affords. They will appear in a strip along the bottom of the page.
"The change comes as The Times, along with other newspapers, faces an increasingly difficult economic environment. Mr. Keller also said yesterday that the paper was considering cost-saving measures, including shrinking the width of the paper.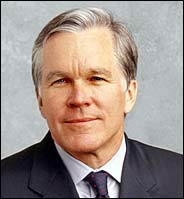 "Mr. Keller disclosed the moves during a presentation to newsroom employees, meetings he holds twice a year. His remarks yesterday focused in large part on the paper's journalistic accomplishments of the last six months.
"The Times already runs ads on the front of The Metro Section on Sundays, and some newspapers, including USA Today, are now selling advertising space on their front pages — a move The Wall Street Journal, for one, has said it is considering."
Read more here. Personally, I am disturbed by the move. It blurs the line for readers between what is for sale and what is not for sale in the newspaper.