Reuters is reporting that News Corp. has pledged to give $2.5 million to a foundation run by a person picked to be on the Wall Street Journal editorial oversight board that will guard the paper against interference by News Corp. CEO Rupert Murdoch.
Murdoch agreed to purchase the parent company of The Journal earlier this week for $5 billion.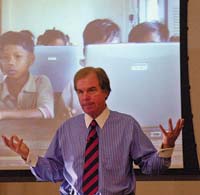 Jim Finkle and Kenneth Li wrote, "Rupert Murdoch's global media conglomerate selected Massachusetts Institute of Technology Professor Nicholas Negroponte to be part of the five-member special committee that will oversee the editorial independence of Dow Jones's news operations including the Wall Street Journal.
"Creation of the committee and agreement on who would be on it was part of News Corp's $5.6 billion deal to buy Dow Jones.
"Asked if the donation compromised Negroponte's independence as a member of a group designed to safeguard Dow Jones' editorial integrity, Dow Jones spokeswoman Linda Dunbar said: 'We are confident of the capability of the individuals to make independent decisions.'
"In an e-mail interview with Reuters in May, Negroponte described Murdoch as a personal friend and a key backer of the One Laptop per Child (OLPC) foundation that makes inexpensive laptop computers for poor children."
Read more here.