I had the opportunity to speak this morning to Myron Kandel by telephone. Kandel is the founding financial editor of CNN News, and he was formerly a business reporter for the New York Times and business editor of the Washington Star, New York Herald-Tribune and New York Post. He has been a past president, twice, of the Society of American Business Editors and Writers, and was one of its early members.
On Monday, Kandel was named this year's recipient of the Loeb Lifetime Achievement Award, which recognizes an individual whose career exemplifies the consistent and superior insight and professional skills necessary to further the understanding of business, financial and economic issues.
Here is part of our conversation:
Q: How hard was it to overcome in the 1950s and the 1960s the stigma that business journalism was boring, both inside and outside of the newsroom?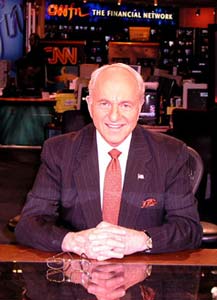 A: We didn't have the best and the brightest because most didn't get out of journalism school and say they wanted to be a financial reporter. The Herald-Tribune and the Times had large business sections, and my personal goal was to upgrade the level of the staff as people left and moved on. But the standards were high. Those papers that demanded high standards were able to get them. I think the Herald-Tribune and the Times and not even a handful of other papers did a good job. Most of them didn't have enough space and enough staff. The year before I came back from Germany, which was 1964, a group of people started the Society of American Business Writers, which then became Society of American Business Editors and Writers. They were people representing small papers and some big ones. The first president was Joseph Livingston, the first economics reporter to win a Pulitzer Prize. They helped improve the craft and standing of financial journalism in the newspapers themselves. There was no broadcast at all. I think SABEW has done a very good job. I joined the second year, and maybe we had 30 members.
Q: Why do you think that business journalism on television began to grow in importance in the 1970s and 1980s?
A: The thing that attracted me to CNN was that the lack of business coverage on TV was a pet peeve of mine. I called it the wasteland of television news. I used to tell newspaper publishers that the one place we could beat TV was in business news because they don't cover it. So when Schonfeld spoke to me, he told me they were going to cover business news and do a half-hour program in a primetime slot. It had really never been done before. We pioneered the coverage of business news on network television. The only thing that existed prior was Wall Street Week, which was not a business show, but covered investing. So, it was a great challenge. I hired Lou Dobbs to be the anchor, and I did commentary. And we really made a splash because people realized we could cover business news and make it interesting. We did a half hour, and we did some weekend programs as well.
Q: Do you think that business journalism on TV has done a good job in the last 25 years? Why or why not?
A: I think overall it has. I think there was too much cheerleading when the market was really hot. Especially during the dot-com boom. But we were in the midst of the biggest bull market in U.S. history. So, that was part of it. At CNN, we would get in to that, to some extent, but others were worse.
Q: What have been some of the biggest changes that you've seen in business journalism during your career?
A: No. 1 has been the coverage of business journalism on television. We know have CNBC, CNN for seven years had its own financial network, CNNfn. Fox does a good deal of business coverage. When we started CNN, each of the networks had one financial correspondent, and they were lucky to get on a couple of times each week. At the height, CNN had six hours of business coverage every weekday and five separate weekend programs. Sadly, right now, it has no dedicated weekday program devoted to business news. It does updates every hour and one and a half hours on the weekend. So the emergence of business coverage on television is significant.
We also had the growth of standalone business sections in newspapers across the country, including the New York Times. One concern with the dropping of the stock tables, the worry is that business departments will lose their separate section identity. I don't know that it has happened yet, but at the last meeting of SABEW, this was a cause of concern.
We have much better trained business writers. I don't know if I could have gotten my job. If I were running a department, I would insist on somebody having specialized training.
Q: Business journalism has been criticized in recent years for missing some big corporate scandals. Do you think that's a valid critique?
A: Yes. Everybody else missed it too. Wall Street analysts, who get paid a whole lot more, missed it. I think business journalists, along with the rest of society, were carried away to some extent by the booming economy and the gangbuster stock market. There were a few examples of saying the emperor has no clothes, but they were a voice in the wilderness. How many adulatory stories were written about Ken Lay?
Q: Where do you see the future of business journalism heading?
A: I think it's only brighter as more and more Americans have a stake in the stock market and more discretionary income, and more control over their retirement funds. There will be growing interest in business journalism. At the same time, there will be a plethora of outlets with the Web. We'll see a lot of garbage, and we'll see a lot of good stuff. It's up to responsible journalists to point out the differences and guide the average reader or viewer or surfer to responsible places. And then of course, the growth of the blogosphere can't be overlooked. The thing that bothers me about blogging is that it is unfiltered. In journalism, there are layers of expertise. Blogging, there is none of that. So there could be the misuse of the web, and that's something responsible journalists have to pay attention to.