The Indianapolis Star, which in 2007 decided to cut its standalone business section but then reversed the decision, has now gone ahead and eliminate it, reports the Indianapolis Business Journal.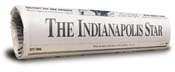 The Business Journal writes that the decision has gotten mixed reactions.
The Business Journal story states, "Changes to the Star, including the scrapping of its stand-alone, four-page business section, started today and mainly are the result of declining revenue and surging newsprint prices, Star Publisher Michael Kane told readers in Sunday's edition. The merging of sections follows 62 job cuts at the newspaper last month.
"'At a time of much uncertainty and change in our industry,' Kane said, 'we've been hit hard by national economic hardships as well.'
"Roland Dorson, president of the Greater Indianapolis Chamber of Commerce, understands the Star's decision, particularly given the struggles daily newspapers are facing. Another Gannett-owned paper, the Detroit Free Press, cut home delivery to three times a week in December.
"'I'm sorry about the demise of the daily newspaper, but it is what it is,' Dorson said. 'The Internet's at everyone's fingertips. If you're in that business you have to respond to the changes to remain viable.'"
Read more here.