Reuters reports that London-based Guardian News & Media has acquired ContentNext, the parent company of tech business blog site PaidContent.org.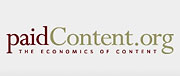 Reuters writes, "ContentNext's founder and editor, Rafat Ali, and Chief Executive Nathan Richardson would continue to run the company as a stand-alone business, said the privately held Guardian, which publishes the Guardian and Observer newspapers in Britain and the Guardian America website.
"The Guardian paid about $30 million, a source familiar with the situation told Reuters.
"ContentNext, which is based in Santa Monica and New York City, delivers news and analysis to executives in the media, entertainment and technology sectors. It was founded in 2002.
"It owns paidContent.org, which covers digital content; mocoNews.net, which covers mobile content; paidContent:UK, which focuses on the UK and Europe; and contentSutra.com, which covers India's digital content market."
Read more here.