TALKING BIZ NEWS EXCLUSIVE
Footnoted.org, the financial news site started by business journalist Michelle Leder and sold earlier this month to Morningstar, has hired its third employee.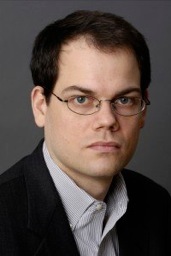 Theo Francis, a reporter in Bloomberg's Washington bureau who previously worked for BusinessWeek, quit the wire service on Friday.
In an e-mail to friends Saturday morning, Francis wrote, "I'm going to footnoted.org, the Web site and subscription service founded by Michelle Leder. It was recently acquired by Morningstar, and will continue as a brand under Michelle's leadership; the acquisition means it can expand (I'm employee no. 3) and I'll have a hand in coming up with and executing those plans, while rooting around in the SEC filings and writing about it. More about the business, of course, at http://www.footnoted.org
"I'm really looking forward to it, but I'll miss working with all of you. (And others, too — I'm sure I've accidentally omitted plenty of people who know I'm gone; I hope to send out a broader note soon.)"
Francis covered financial and housing regulation, and he had joined Bloomberg after it acquired BusinessWeek in December. He had been at the magazine for little more than a year and had covered the Securities and Exchange Commission.
Previously, Francis worked at The Wall Street Journal, where he covered a wide range of subjects, most recently focusing on employee benefits and pensions, health care, finance, executive pay, and the insurance industry. He is the recipient of numerous awards, and was a part of the teams that won the 2003 Pulitzer Prize for coverage of corporate scandals as well as a Loeb and two George Polk awards for coverage of pension and executive pay issues.
Francis graduated from the University of Illinois at Urbana-Champaign with a bachelor of arts degree in journalism and received his master's in journalism from Columbia University.