Jeff Bercovici of Conde Nast Portfolio writes that Wall Street Journal managing editor Robert Thomson's memo last week requesting that reporters break more news at the paper is causing a lot of consternation.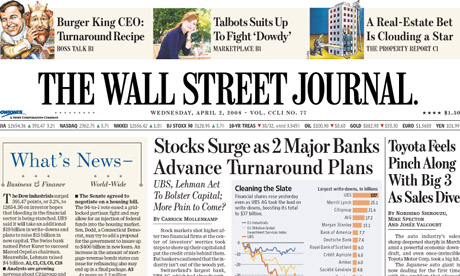 Bercovici writes, "Horrifying? More than a few longtime Journal veterans thought so.
"'It's a pretty definitive statement to say that henceforth people will be significantly judged by the frequency with which they break news for bond traders,' says the reporter. 'That hasn't really been the mission of reporters here. It was to make sense of events for the lay reader, and to dig into stories and tell stories in a way that people would remember.'
"'It's depressing to a lot of people who have been there for a long time,' says an ex-staffer who left recently. 'Maybe there's a market for selling this shit to people who are creating trading algorithms, but there's nobody on the Journal's staff who wants to write that stuff. You didn't sign up to write 130-word squibs. You signed up to file 3,000-word mini-New Yorker stories for the front page.'
"Compounding the depression is a layer of confusion generated by Murdoch's talk about putting the Journal onto a footing where it can compete against The New York Times on all fronts. 'Now we're being told that our real competition isn't the Times — it's Bloomberg and Reuters,' says the ex-staffer. 'You're turning us all into wire reporters. It's all going to be nuggets written by scriveners who get 700 words to spread their wings.' And people will put up with it, he says, because 'there's no other place you can go if you want to stay in journalism.'"
Read more here.