CBS, PBS garner most business Emmy nominations
CBS and PBS dominated the nominations for the seventh annual business and financial Emmy awards, which were announced Thursday.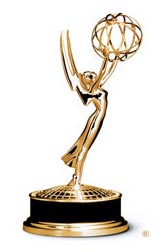 CBS had 15 of the 31 nominations, while PBS had another five. BBC America and CNBC each received three nominations. ABC had two nominations. The Wall Street Journal/wsj.com was nominated in one category, as was NBC and HDNet.
Eight of the 15 CBS nominations were for stories on "60 Minutes." Four more appears on the "Evening News with Katie Couric."
"In these times of almost unprecedented financial uncertainty, good business reporting is more important than ever," said Bill Small, chairman of the News & Documentary Emmy Awards, in a statement. "This year's nominees are the best of an excellent selection of submissions, and show how hard broadcast journalists have worked to keep viewers informed about the economic events that affect their lives."
The Emmy Awards for Business & Financial Reporting recognize outstanding achievement in business and financial reporting from July 1, 2008, through June 30, 2009.
The awards will be presented at a luncheon on Monday, Dec. 7, at Fordham University's Lincoln Center campus in New York City.
Read more here.