BusinessWeek names new art director
BusinessWeek announced Wednesday the appointment of Andrew Horton as art director for the magazine. In his new role, he will be responsible for the design of the print publication and for oversight of the art, photo and graphic departments.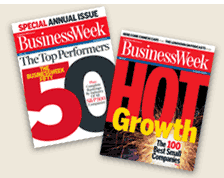 His official start date at the magazine will be Jan. 11.
Horton brings extensive experience in art direction, creative development and illustration. Before joining BusinessWeek, he served as freelance art director at numerous titles including New York, Newsweek, Men's Journal, and Rolling Stone. Previously, he served as art director for Advertising Age and associate art director for the Wall Street Journal Weekend. He also designed the new publication GreenSource for McGraw-Hill Construction.
"Andrew brings enormous creativity and passion to magazine design," said Editor-in-Chief Stephen J. Adler. "I look forward to working with him as we continue to enhance the look and feel of BusinessWeek."
"I'm thrilled to join a very talented team and to have the opportunity to make a contribution to such a well-known brand," said Horton in a statement.
Horton replaces Malcolm Frouman, who redesigned the magazine in 2003 but left earlier this year.