StreetInsider.com reports that Fox Business Network is adding its third new show in the past month this weekend.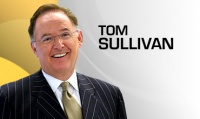 The site reports, "The show, called The Tom Sullivan Show, will premiere on Saturday at 7pm ET with a guest lineup that will include former FEMA Director Michael Brown, Nevada Senate candidate Sharron Angle, amongst others.
"Fox Business Network has confirmed the new show when contacted.
"Sullivan currently hosts a syndicated radio talk show on the Fox News Radio network and joined Fox Business Network in October 2007 as an anchor.
"Sullivan was a founding partner of The Sullivan Group, an investment management firm that is now part of the Premier Client Group of Wachovia Securities."
Read more here.