The Oregonian, the daily newspaper in Portland, saw fit to editorialize about Jim Cramer and his "Mad Money" television show in this morning's edition. They were, surprisingly, positive about Cramer and his position among the talking heads on TV.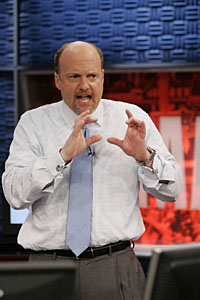 The editorial, titled "A big Booyah! to the crazy man of Wall Street," stated: "Who would have thought that this hyperactive, balding shouter could host one of the most honest programs on cable television?
"Cramer doesn't pander. He just barks, paces, gesticulates and raves like nobody's business in the pursuit of investment success. He is single-minded, enthusiastic and relentless. He is a happy scavenger, fueled by a profit-seeking exhibitionism.
"Contrast him with the other cable heads who compete with him in "news" cable television's afternoon and evening time slots. Lou Dobbs, Tucker Carlson, Nancy Grace, the various business news readers and others, sadly, represent the continuing decline of the American dialogue. They feign outrage, seeking to inflame opinion by embracing the most extreme conclusions the market will bear. It's enough to make thoughtful people despair."
Later the editorial notes: "Cramer can't chill. He's too much of a raver. He certainly isn't always right, as he admits. But it's refreshing to hear somebody talking passionately about ideas, rather than trying to score points at somebody else's expense."
Has business journalism arrived in the popular culture when the mainstream media now editorializes about one of its most famous practitioners?
Read the editorial here.