Will blogging be good for business journalism?
TheDeal.com executive editor Yvette Kantrow wonders about the effects of blogging on business journalism in the aftermath of a decision by Business 2.0 that it will encourage all of its writers to blog, and that they will be paid based on how many hits they receive.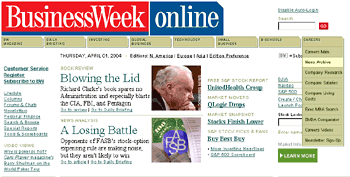 Kantrow wrote, "In Media Maneuvers terms, it might mean abandoning our nice little niche of commenting on deal and finance coverage in favor of Romenesko-ready rants on big media names like Kurt Andersen and Michael Wolff, The Deal's core audience and mission be damned.
"None of this is that far-fetched. In fact, we've already seen a bevy of business Web sites wander off their parents' farms in search of new eyeballs. Forbes.com, for example, scored a truckload of links to mass-market Web sites in August by posting a provocative article urging men to steer clear of marrying career women or risk living in a dirty house. Way to go, Capitalist Tool! And BusinessWeek Online, the new home of former Forbes.com 'lifestyle editor' Charles Dubow, is running 'slideshows' on such un-businesslike topics as the 'Coolest Cop Cars,' 'Super Bathrooms,' and our personal favorite, 'Super Doghouses.' 'From the canine avant-garde to the miniature mutt mansion, this BusinessWeek.com slideshow gives dogs and owners alike something to drool over,' it coos.
"But are those droolers really BusinessWeek readers? Will they return to the Web site day after day and read its other, more business-y fare? Or are they just passing through on their way to DogChannel.com? Perhaps only time will tell if all eyeballs are good ones and if splashy, less-specialized Web content, whether via blogs, slide shows or whatever, can attract the kind of high-powered, high-income readers magazines such as BusinessWeek and Business 2.0 purport to deliver to advertisers. In his Huff Po piece, Shanoff laments that Business 2.0's plan will divert its journalists' attention 'from the quality of their writing to the quality of their traffic.' But we'd argue that the quality of the traffic has yet to be taken into account. Right now, it's all about the quantity."
Read more here.