Cuban: Few biz journalists focusing on investigative work
Billionaire Mark Cuban, who helped fund the launch of the Sharesleuth.com web site devoted to investigative business journalism, said in a Q&A interview with a Los Angeles publication that business journalists aren't doing enough investigative stories.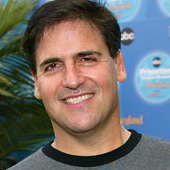 Cuban said, "It's getting increasingly difficult to support the level of investigation required financially. As media outlets cut back, there are fewer business journalists than ever focusing on this area. That created a unique opportunity for us. Fewer people chasing these stories meant there were probably some yet to be found. And by the way, I didn't see us as being critical, just as recognizing change."
Later, Cuban told Joe Piasecki of Los Angeles City Beat that Sharesleuth would publish its next article within the next week.
And he made a good case for why newspapers were not trying to improve the quality of their investigative business journalism, stating: "Despite the fact that most newspapers and media are making strong profits, they have become slaves to earnings per share and trying to grow them worse than Internet companies were to page-views, users, and revenue in the late 1990s. They are not looking to create the best newspaper or media companies; they are looking to get their stock prices up. I know this is a generalization, but I can't think of a large media company it doesn't apply to. You have companies financial-engineering with tracking stocks, stock splits, buybacks, dividends, debt, acquisitions. You never hear anyone anymore saying 'We are investing to become the best because our readers/viewers/listeners want the best possible content.'"
Read more here.