Caitlin Fitzsimmons of The Guardian newspaper in London reports Friday that The Wall Street Journal has hired two Financial Times' reporters, Thorold Barker and Liam Denning, who write from the FT's New York office.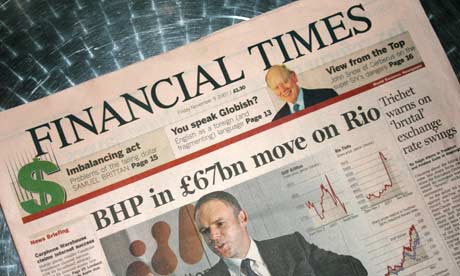 Fitzsimmons writes, "The WSJ confirmed both appointments but declined to give details about their roles. However, it is believed both Barker and Denning have been recruited to write for Heard on the Street, WSJ's equivalent to Lex, which has run since the 1960s.
"An FT spokesman confirmed Barker's departure but said he would serve a three-month notice period. The spokesman was unable to confirm that Denning had resigned.
"The paper has moved to fill the gap immediately, with London-based Lex writer Helen Thomas moving to New York in the next few days.
"Lex has lost six people since February, including former editor Tracy Corrigan, who defected to the Daily Telegraph; deputy Patrick Foulis to the Economist; two internal moves, and now Barker and Denning."
Read more here.