David Goetzl and Joe Mandese of MediaDailyNews report that The Wall Street Journal is cutting its advertising column, which ran five days a week, down to a twice-a-week schedule.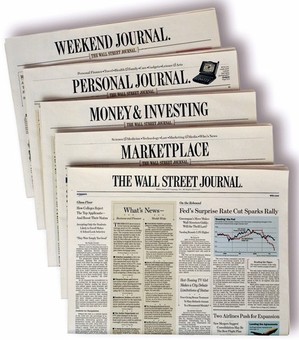 They report, "The column — arguably a must-read in the industry — will appear on Mondays and Thursdays beginning this week.
"Readers opening the B-section of Tuesday's Journal didn't get the column — the first time in at least 20 years. The 'Advertising' column covers new campaigns, industry trends, agency initiatives and more.
"'Our hope is that by running the column less often, we can better single out the key trends and issues in the industry, while increasing our ability to leap opportunistically on the news,' said a statement from Journal owner Dow Jones. 'We remain fully committed to in-depth reporting about the advertising industry.'
"When the Journal launched its advertising column in the 1980s, it was a critical point of pride inside Dow Jones & Co. It gave the newspaper an important voice on Madison Avenue versus The New York Times' long-dominant position among dailies covering the advertising business."
Read more here.