The Winston-Salem Journal announced Thursday that it would cut its standalone business section in an attempt to cut its costs.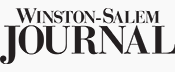 The paper joins the Cincinnati Enquirer, Columbus Dispatch, Reno Gazette-Journal and Akron Beacon-Journal, among others, as papers that have taken this step.
A short story in the paper stated, "The Winston-Salem Journal will eliminate its daily business-news section, combine some Sunday sections and eliminate five positions to reduce costs, the Journal's president and publisher said yesterday in a letter to employees.
"'As we all know, our industry is experiencing rapid changes in how consumers gather their news and information, and advertiser spending in traditional media is undergoing fundamental shifts,' Mike Miller said.
"The Journal no longer will publish a separate business-news section, except on Sundays. Instead, two pages will be added to the Local section during the week for business news and stocks of local interest."
Read more here. The Winston-Salem paper is owned by Media General, which also owns the Richmond Times-Dispatch and the Tampa Tribune.