Jane Seccombe, the business editor of the Winston-Salem Journal, writes Sunday that she will start a regular column in the newspaper.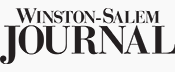 Seccombe wrote, "Business runs our lives. We're consumers, employees, employers and investors. We have bank loans; we shop in town and on the Internet. Retirement planning has become complex. Risk was something that others used to handle; now it's in our own hands. And one of the best places to find ways to navigate those waters is the Journal business section.
"That's one of the reasons why today I am starting a regular business column. I'll be writing mainly about local issues and developments, but sometimes I will travel further afield. Even events happening on the other side of the world can affect us here in Winston-Salem. Anyone working in a manufacturing plant knows that.
"I've been following business news for most of my professional life. I was born and raised in South Africa and went to work for a newspaper straight out of high school."
Read more here. Seccombe asks for just one thing from her readers: Don't revisit the decision last year to cut stock listings.