What will the happy biz media do in the future?
TheDeal.com executive editor Yvette Kantrow wants to know what perpetually happy business news media such as Fox Business Network and personal finance magazines will cover when the economy turns sour.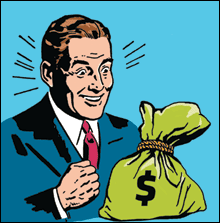 Kantrow wrote, "It's a question not just for Fox Business Network, but for much of retail business journalism, notably the personal finance media, as it faces the end of yet another boom: What to do when dealing with money — investing it, spending it, even fantasizing about it — is no longer fun for large swaths of people, who, as recently as a year ago, believed their homes had made them rich, sort of. These days, the mere act of opening a statement — whether for a brokerage account, a high-yield savings account, or a mortgage — can send folks reaching for the Pepcid. So tuning into Fox Business, or CNBC, or picking up titles like Money or Smart Money can be as appealing as a trip to the dentist. Ten investments to make now? No thanks, we'll take a root canal instead.
"How will the personal finance pubs respond to the current economy, with its tangle of recondite difficulties? In its March issue, Money tries to confront the situation head-on with a 'special report' on how to 'recession-proof your life.' It's all pretty run-of-the-mill, commonsense kind of stuff, from 'stock up on emergency funds' to try to hold on to your job. Hey, good idea. But at least give Money points for realism, which also runs through the issue's main event: a baby boomer's 'guide to financial freedom.' Says Money, 'Inevitably, the tailwinds that the economy has enjoyed for the past quarter-century will have to play themselves out, if only because the conditions that created them no longer exist.'
"Meanwhile, Smart Money takes a different tack in its March offering. Its cover story: What to do with a $100,000 windfall."
Read more here.