Tim Arango of Fortune writes an interesting story Monday about what the dividend checks from Dow Jones & Co. pay for when it comes to one member of the Bancroft family that controls the owner of The Wall Street Journal.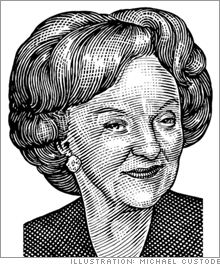 He focuses on Jacqueline Spencer Morgan, who married a Bancroft in 1948, and the millions she pumped into a small New Mexico community where she lived and notes that the dividends to Bancroft members often are larger than the company's profits.
Arango wrote, "The estate documents also show how the $4 million annual dividend payments to the late Mrs. Morgan supported a rich lifestyle. She died owning several properties in New Mexico and Mexico, about $1 million in jewelry, and works of art – some of which, including a Picasso, were auctioned off by Ronnie Lee last year in Texas.
"Today in Carrizozo, a few of the late heiress's gowns even hang in locals' closets. When the Carrizozo Women's Club held its rummage sales, Jacqueline often donated items. 'The night before, the members would go in to price everything, and they would be getting fur coats for five dollars,' related Ruth Hammond, co-publisher of the Lincoln County News. And though she pumped nearly $37 million into the Spencer Theater, Jacqueline paid for her own tickets.
"While everyone in town knew she had money, she was discreet about its source. 'She never talked about that,' said Antoine Predock, the noted architect who designed the Spencer Theater. Such gracious acts are of a bygone era. For the current Bancrofts, the days of living large on Dow Jones dividends may soon become a thing of the past too."
Read more here.