The Tallahassee Democrat's business section will no longer share a section with the opinion page, writes business editor Steve Liner in Tuesday's paper.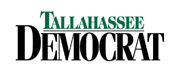 Liner wrote, "First change: The name has changed to reflect what we are bringing you. No longer 'Business and Editorial,' we are now 'Business and Growth.' The name tells the story, really, of the coverage we've been bringing you for some time, concentrating on business news and growth issues in our coverage area.
"Second change: We have a new approach. Our goal is to get you useful information as quickly as possible. For that reason, information once relegated to Sunday – our News of Record – is now going to be listed as part of daily coverage. You have told us it is important to get your information timelier, and we are responding. Another immediate change is to give you a daily business calendar inside Business and Growth so you can see what's happening every day before the day starts for you. Our calendar is also online, and, remember, now you can post your own calendar items. So don't be shy – let us know when a business event is planned.
"There is much more, as you will discover, but I only want to take space for one more thing. Please let me know what you'd like for us to include."
Read more here.