David Brauer of MinnPost. com reports that St. Paul Pioneer Press business reporter Jennifer Bjorhus, who covered housing and the economy, has left the paper this week for a business reporting job at the Minneapolis Star-Tribune, its main competition.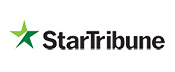 Brauer writes, "Bjorhus — whose early and steady work on the foreclosure crisis earned notice — will become an 'enterprise' reporter for the Strib business desk, working on investigations and chasing hot topics.
"It's a great thing for the Strib, validating management's claim of protecting newsgathering amid the financial tide, and a real bummer for the PiPress.
"As PiPress editor Thom Fladung noted in a gracious staff memo, Bjorhus 'built an impressive record of hard-hitting, big-picture enterprise stories — particularly stories that got out ahead of the news.'
Read more here.