Michael Calderone of the New York Observer interviews Fortune managing editor Andy Serwer about his first six months on the job and notes that he's trying to bring back some staff members who left in recent years.
Betsy Morris, who left Fortune last year for Conde Nast Portfolio, recently returned to the Time Inc. glossy.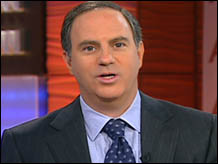 Calderone wrote, "Mr. Serwer said that he still considers BusinessWeek and The New York Times to be his primary competition, not the upstart glossy.
"'I think they're going to be competing more against Vanity Fair than us' he said. 'Isn't that the same company?'
"Competition or not, Portfolio has dug deep into Newhouse coffers to successfully raid magazine mastheads.
"But Mr. Serwer is apparently ready to answer back, and has extended offers to staffers who fled during Eric Pooley's tumultuous 18-month tenure as managing editor, according to a Fortune staffer.
"Although there is not a 'blanket offer,' said another staffer, Mr. Serwer has not been shy about making overtures.
"And Ms. Morris was not the only Fortune-turned-Portfolio staffer he's tried to bring back in the ranks.
"Mr. Serwer reached out to Portfolio senior writer Dan Roth, and the two met up last fall, according to a source. But Mr. Roth didn't budge from 4 Times Square."
Read more here.