The San Diego Union-Tribune said Sunday that it was eliminating its Personal Technology section that runs in Monday's paper.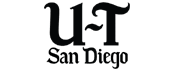 A short story stated, "Be assured, we will continue to cover personal technology in the Business section and other sections of the newspaper.
"The weekly video game reviews and the Macintosh and Windows question-and-answer columns will continue to appear in the newspaper and on SignOnSanDiego.com.
"The employment classified ads that ran in the section will now appear with the rest of the classified ads."
Read more here.