The Richmond Times-Dispatch is changing the name and content of its Sunday business section to focus more on personal finance.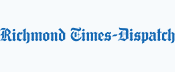 An announcement in the paper stated, "To better reflect the economic environment, the Richmond Times-Dispatch is giving a new name and focus to the Sunday Business section.
"Moneywise debuts next Sunday.
"The new section is devoted to coverage of the economy and how people and businesses are finding ways to survive and succeed in the economic turmoil.
"It offers resources to help you save money and protect your home, job and investments. It includes Iris Taylor's Consumer Watch column and the Wall Street Journal Sunday pages."
Read more here.