Joe DiStefano, a business reporter who left the Philadelphia Inquirer nearly a year ago to join Bloomberg News, is returning to the newspaper, beginning Monday, according to an internal announcement.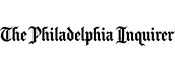 Business editor Tony Gnoffo wrote in an e-mail: "Joe DiStefano, the tenacious, source-laden, news-breaking business reporter who left his Inquirer editors nearly weeping when he departed last year for Bloomberg News, will return to The Inquirer on Monday.
"For his first task, he'll be the lead reporter on a December special section that will parse the financial health and economic impact of Philadelphia's biggest companies. After that, he'll take on a beat yet to be determined. Please join me in welcoming Joe on his return to Broad Street."
DiStefano covered the credit card industry and consumer credit for Bloomberg, and was based out of the Wilmington, Del., bureau. Last year, DiStefano had the unenviable task of covering the sale of Knight-Ridder, the parent company of the Inquirer at the time, to McClatchy.