Bill Stanley of the Norwich Bulletin writes Sunday about one of the founders of The Wall Street Journal, Charles Dow, who grew up in nearby Sterling.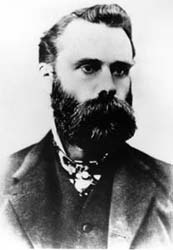 Stanley wrote, "Dow is recognized as the father of business news and I am proud and happy he came from our neck of the woods in Eastern Connecticut.
"Young Dow always wanted to be a reporter. He was fascinated with the stock market and commodities. His first freelance assignment was in the Midwest where silver had been discovered. He would report on various silver mines. It was the mid-1800s, during the gold rush and the Irish migration. It was a time in American history when the West was being opened and speculators, prospectors and traders were putting together all kinds of deals. Even then, there were investment pools and people were manipulated and swindled, in large part, because there was no financial newspaper — no way to get facts.
"When Dow returned to New York City, he befriended another fellow who shared his thoughts; Edward Jones. The two of them set about publishing the first financial newspaper. Most of the news then was about silver mining. In time, their paper would be called The Wall Street Journal. Dow and Jones gave birth to a great financial publishing empire, which is the biggest in the world."
Read more here.