Fortune magazine, seeking to use editor at large Carol Loomis' close relationship with billionaire Warren Buffett to its advantage, sent out an e-mail this afternoon that stated:
"FORTUNE.com just posted three notable stories on Warren Buffett and Berkshire Hathaway, written by FORTUNE editor at large Carol Loomis.
"Buffett seeks a new Buffett
In annual report released Thursday, the world's greatest investor says he's looking for an understudy — job-hoppers and money-grubbers need not apply. Â
"Buffett to charities: 'Spend my money fast'
In annual report, Warren Buffett addresses how his remaining Berkshire Hathaway shares should be dealt with when he dies.
"Buffett: Major additions to stock holdings
In Berkshire Hathaway annual report, Warren Buffett lists positions in new holdings, including Johnson & Johnson, and reports record gain in company's net worth."
(Note that I changed the e-mail slightly. It included the URLs for the three stories at the end of each brief synopsis. I have provided links to those stories in the headlines.)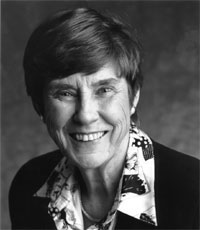 For those unfamiliar with Loomis, she is friends with Buffett, and that friendship includes editing Berkshire Hathaway's annual report, and she has made it clear that she doesn't consider that friendship a conflict of interest even though she writes about Buffett. In June, she broke the story that Buffett planned to give away most of his money to charity.
I bring all of this background up, as well as the e-mail, to point out that Loomis, who received the lifetime achievement award last year from the Society of American Business Editors and Writers, is writing about information disclosed in an annual report that she edited. Carmine Tiso, senior manager of communications for Fortune, told me in an e-mail, "Yes, Carol did edit the annual report, as she has mentioned in some of her previous stories on Warren Buffet and Berkshire Hathaway in FORTUNE."
However, this point — that Loomis edited the annual report that she's writing about — is not mentioned in any of the current stories.
I've heard from at least one prize-winning business journalist this afternoon who can't understand why a business publication allows one of its writers to cover a story in which they played a part. This journalist, who was at the SABEW annual meeting last year when Loomis received her award, said that such a conflict of interest would be grounds for dismissal at any other newsroom.
It's obvious from the postings that Loomis had access to the annual report before it was released to the public as the stories were all posted within minutes of each other. In addition, no other media outlet had reported the contents of the annual report within an hour of when her stories were posted. (I have less of a problem with this last point. Fortune is playing its exclusive trump card.)
I'd like to hear from other business journalists as to whether they'd be allowed to cover a similar story, and what they think about the relationship between Loomis and Buffett. Does her writing about Buffett's comments in his annual report — which she edited — consitute an ethical breach in business journalism? Why or why not?