The Palm Beach Post newspaper announced Tuesday that it has combined its standalone business section with the local news section and cut its printed stock and mutual fund listings.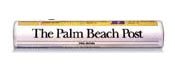 The paper, in a story posted on its Web site, stated, "The Post is making these changes, including combining the Business and Local sections, because of rising newsprint costs.
"And, The Post recognizes that Business news readers increasingly are getting their stock quotes from the Web.
"To get up-to-the-minute trading information on specific stocks and funds, readers may go to PalmBeachPost.com/stocks. Investors can tailor the Web site to follow their own portfolio of stocks and funds.
"For the most complete weekly report on the market, readers can subscribe to The Post's Weekend Stocks section, with 22 pages of listings, indices and commentary delivered every Saturday."
Read more here.
Papers that have made or announced similar moves include
Papers that have made similar moves include the Denver Post, Orange County Register, Cincinnati Enquirer, Columbus (Ohio) Dispatch, Reno (Nev.) Gazette-Journal, Winston-Salem (N.C.) Journal, Monterey (Calif.) Herald, Sacramentoi Bee and Akron (Ohio) Beacon-Journal.