The Albany Times Union in upstate New York said Friday that it has updated its financial data in its business section, with expanded currency exchange rates, additional commodities prices and a summary of the best and worst performing local company stocks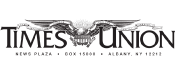 A brief in the paper states, "Called 'Markets at a Glance,' the new presentation will run atop the second business page Tuesdays through Saturday and will include silver, natural gas and crude oil prices.
"A new daily feature tracking how much $1,000 invested in a local stock one year ago would be worth today has been added. The listing will also show how various industries have performed over the past year.
"Treasury bond, note and bill activity, which had previously been in the stocks package, will now be in the daily story that reports on Wall Street activity. The performance of the S&P 500 index has been added to the summary of market activity every day on the front of the business news section, replacing Treasury bond, gold, and dollar-euro data."
Read more here.