NBR founders to receive lifetime Emmy
The National Academy of Television Arts & Sciences announced Thursday it will present this year's Lifetime Achievement Award in Business & Financial Reporting to Paul Kangas, anchor and financial commentator for PBS' Nightly Business Report, and Linda O'Bryon, the founder of the pioneering business news broadcast and now chief content officer of Northern California Public Broadcasting.
The awards will be presented at the Fifth Annual Emmy Awards for Business & Financial Reporting, to be held Monday, Dec. 7 at Fordham University in New York City.
"As television's first daily broadcast devoted to economic news, Nightly Business Report broke new ground when it launched over 30 years ago" said Bill Small, chairman of the News & Documentary Emmy Awards, in a statement. "Linda O'Bryon led a small group to create the show, and under her stewardship it became one of the most influential business news broadcasts on television.
"Longtime anchor and financial commentator Paul Kangas was also present at the creation, and his deep knowledge of the financial markets and skill in the anchor chair has been equally responsible for the show's success. We are proud to honor them both with this year's Lifetime Achievement Award."
Kangas was a South Florida stock broker when he joined Nightly Business Report as a stock commentator in 1979. In 1990 he became the show's co-anchor. Kangas has reported on all of the major financial events of the last three decades, from market bubbles to bull runs to bear runs to financial scandals.
O'Bryon spearheaded the creation of Nightly Business Report in 1979, when she was serving as news director at South Florida public television station WPBT. NBR was television's first nightly business news program, and under O'Bryon's stewardship became the most-watched evening business news program, distributed nationally by PBS on more than 250 stations. When NBR was launched she both managed the program and served as its co-anchor.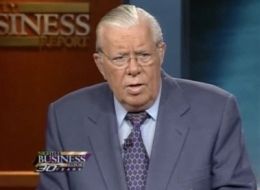 "At a time when credible business journalism is more critical than ever, PBS is very proud to serve as the home of Nightly Business Report," said Paula A. Kerger, PBS's President and Chief Executive Officer. "Paul Kangas and Linda O'Bryon have been instrumental in shaping the program during its 30-year history, setting high standards that distinguish 'NBR' from all its commercial competitors. This high honor is well deserved."
"One of the things I most admire about Linda and Paul is the integrity that they brought to this program," added Rodney Ward, executive editor and senior vice president of Nightly Business Report, in a statement. "Fair and balanced really meant something to them as they approached our subject matter. They were not afraid to ask tough questions. They were not afraid to challenge assumptions or long held views. They did not fawn over CEOs or politicians. They were not cheerleaders. They did not seek to become a part of the game. Their only goal was to report the news and to inform the viewer to the best of their ability."