Aline van Duyn and Joshua Chaffin of The Financial Times write Saturday that News Corp. CEO Rupert Murdoch called the decision to remove CNBC ads from the Wall Street Journal and Marketwatch web sites on the day Fox Business Network launched a "bit heavy handed."
News Corp. owns Fox Business Network, and it's in the process of acquiring Dow Jones & Co., the parent of the Journal and Marketwatch.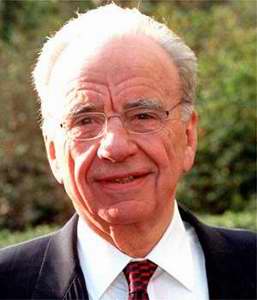 They wrote, "Mr Murdoch, speaking after News Corp's annual shareholder meeting, said the decision to block the CNBC ads was not done 'on the instructions of News Corp or even the request of News Corp'.
"CNBC executives last month contracted for a blitz of ads on two Dow Jones websites – WSJ.com and MarketWatch – to run in October and November. The ads were intended, in part, to counter the launch last Monday of Fox Business Network.
"However, CNBC was informed by its advertising agency last week that the MarketWatch advertisements would not be permitted to run on that day due to sensitivities with Fox Business – a development that sparked outrage at the network.
"A Wall Street Journal spokesman said: 'As is standard practice, we retain the right to adjust the precise placement and timing of online advertisements.'"
Read more here.