The Minneapolis Star Tribune joins a long list of metropolitan newspapers to cut its stock listings. Beginning Wednesday, the paper will include only a one-page report on stocks and mutual funds.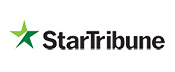 Assistant managing editor of business Duchesne Drew wrote, "Starting Wednesday, we will publish a new roundup of the financial markets in our Business section. The one-page report will carry fewer stock and mutual fund listings but will feature a number of new charts and graphics designed to help you quickly interpret the major economic news of the day.
"The new report, which will appear Tuesday through Saturday, will make it easier to identify the big winners, the big losers and companies to watch. It also will make it easier to stay on top of developments by industry, by exchange and by index.
"The changes in the newspaper will be accompanied by improvements to our financial reports on Startribune.com. Beginning Wednesday, you'll be able to track additional stock data (including splits, historical prices and SEC filings), listen to quarterly conference calls, review the pay of chief executives and take advantage of additional financial calculators. And we'll continue to add new features in the coming weeks."
Read more here.
Other similar sized newspapers to drop or cut stock listings this year include the Cincinnati Enquirer, Atlanta Constitution, Orlando Sentinel, Chicago Tribune and Rocky Mountain News.