Adam McFarland writes that the loss of Fortune Small Business and other business magazines covering innovation that have closed, noting that a void results.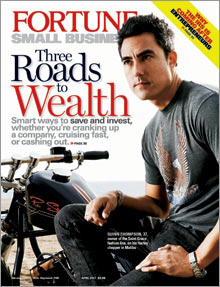 McFarland writes, "Magazines are great at feature stories.  The kind that take a month or two to research and half an hour to read.  Take for example, the recent Wired writer Evan Ratliff who wrote about people who vanish and try to create new identities for themeslves, and then decided to do it himself, placing a $5k reward for anyone who found him within one month.  People from all around the world pooled their resources and finally caught him. The articles were fascinating.  Great reads that I'll never forget.  TechCrunch doesn't do stuff like that…and neither do books.  Magazines have a very unique and specific niche.
"However, the magazine model seems so flawed that I can't help but see this as a trend that will continue.  They charge essentially nothing for subscriptions (many times $10/year or less) and instead rely on hefty ad rates to subsidize the ever-increasing costs.  The model used to be brilliant.  You charge to create perceived value – both in the mind of the customer and the advertiser (it stands to reason that people are more likely to read something that they pay for).  It's not working anymore.  Magazines are dropping left and right.
"So how do you save that niche?  I don't think that ad-supported blogs alone are the answer.  Do you charge for an online-only version?  Do you charge more for a print version?  Do you just run your business leaner – less writers, less issues (say bi-monthly), and less filler pages with misc news that people already know?  Do you run as some sort of hybrid, blogging regularly but charging for a quarterly magazine with more in-depth articles?  Something else?
"I don't know what the answer is, but I'd like to see some people start trying some of this stuff instead of folding or becoming a blog in a niche where there are already plenty of blogs.  Especially magazines with a focus on business and entrepreneurship.  Come on guys, think outside the box a little."
Read more here.