The Indianapolis Star will cut its business editor position as part of a contract agreement between the local Newspaper Guild and the daily metro, Anthony Schoettle of the Indianapolis Business Journal reports.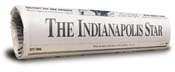 However, editor Dennis Ryerson of the Star says that the Business Journal story is wrong. He said, via e-mail, that, "We have not made any recent change in business  staffing nor do we intend to. At the Star, we verify all information  we print; we don't do rumors.  Anybody can contact me as you did and I will tell them what is happening."
The Star's online directory does not list a "business editor" position, but it does list a "team leader" for business.
Earlier this year, the paper eliminated its standalone business section during the week. A number of Gannett papers made similar moves.
The paper had decided to cut the standalone business section in 2007, but reversed that decision shortly thereafter. That same year, it had combined its metro and business desks. Steve Berta, senior editor for state, metro and business, oversees that operation now.
Read more here.