Fortune looking to trim staff
Stephanie Smith of Women's Wear Daily reports Tuesday that Fortune magazine is seeking volunteers to take a buyout so that it can trim its staff.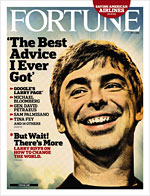 Smith writes, "Managing editor Andy Serwer sent a memo to staffers Monday morning asking for volunteers among its senior writers, writers and writer/reporters to take severance packages. Sources close to the magazine said that up to 15 people could be eliminated, but a specific number was not confirmed by the magazine's spokeswoman.
"Employees have until May 27 to decide whether to take a buyout. Time Inc. is also said to be trimming staff at the Fortune Group's business library, which could eliminate up to five jobs."
Read more here. Top writer Bethany McLean has already announced that she's leaving next month for a job at Vanity Fair.