The publisher of the Fort Wayne Business Weekly newspaper, a former business reporter for the Chicago Tribune, is leaving that post to purchase another business newspaper in another state, according to a story on the Fort Wayne paper's site.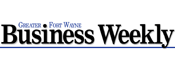 The story stated, "Business Weekly Publisher Rob Kaiser today announced he is purchasing another business publication and will resign as publisher effective May 18.
"Jean Hoover, an advertising account executive at Business Weekly, will take over as publisher. Prior to coming to Fort Wayne, Hoover was an account executive and Midwest advertising manager at The New Yorker magazine. She also worked as Midwest advertising manager at Travel and Leisure magazine and owned her own business.
"'I'm looking forward to being part of the continued growth and success of Business Weekly,' she said.
"Kaiser is purchasing another business publication out of state. He could not comment on details of the transaction because it is not completed. He also could not say where the publication is located."
Read more here. Kaiser was named editor of the paper in 2005 when it launched and became publisher a year later.